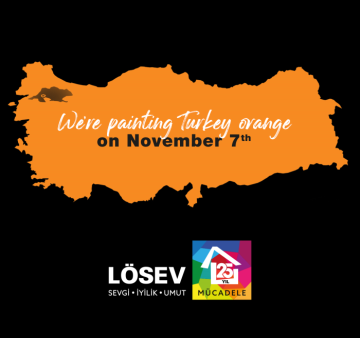 WE'RE PAINTING TURKEY ORANGE FOR CHILDREN WITH LEUKEMIA
We strengthen solidarity with the color orange, which is the symbol of the fight against leukemia, during the Week for Children with Leukemia, November 2-8.
When LÖSEV was founded 25 years ago, the success rate of leukemia treatment was so low and Children with Leukemia and their families were so helpless that unfortunately, many children were lost to leukemia during that period. LÖSEV, envisioning a world without cancer, embarked on this journey by declaring, "Leukemia is Not a Contagious Disease," and shattered the society's perception of Children with Leukemia, which was often ignored and marginalized, by raising awareness among the public. They created children who have won their battles against cancer and held onto life tightly, saying, "Cancer Shouldn't Be Your Destiny.

Representing Hope in the Fight Against Leukemia: Our Lösante Hospital
Over the past 25 years, LÖSEV has transformed into a beacon of hope for Children with Leukemia. Lösante Hospital, constructed through brick donations from the 'You can Put a Brick Too' campaign, has thrown its doors wide open to the young hearts battling leukemia and offering them completely free treatment services. The treatment success rate, which was at 25% the year LÖSEV was founded, has now reached 95% at LÖSANTE Hospital.
However, our hospital is currently operating at half capacity. Despite the existing limitations, our greatest dream is to focus solely on the fight against leukemia, obtain full licensing, and operate at full capacity to bring hope to even more children. In pursuit of this goal, we continue to work tirelessly, without ever losing hope, in order to make a greater impact on lives."

November 2-8 Leukemia Children's Week
In our country, every year, under the leadership of LÖSEV, the first week of November is designated as 'November 2-8 Leukemia Children's Week' and is included in the special weeks by the Ministry of National Education.
During this week, LÖSEV works to raise public awareness about leukemia and draw attention to the challenges that children face. Their goal is to increase support for these children by creating awareness nationwide and promoting a sense of cancer prevention.
The significance of November 2-8 Leukemia Children's Week is paramount, and November 8, which falls within this week, also happens to be the founding day of LÖSEV.
As promised since our establishment, we emphasize that we have always been by the side of children with leukemia, and we take pride in continuing to support them and their families tirelessly in their challenging battles.

The Color of Leukemia Awareness: Orange
This valuable week is marked by the vibrant color "ORANGE," which serves as a symbol of hope and solidarity, representing childhood leukemia, in the fight against leukemia. We use the color orange during this week to draw attention and make it clear that we stand by our Children with Leukemia in their battle for life. Each shade of orange symbolizes the resilience of leukemia children, instilling hope in all of us.
If you're saying, 'I stand with LÖSEV and Children with Leukemia, and I'm aware with my orange,' during November 2-8 Week for Children with Leukemia, please share your individual or corporate photos with orange clothing or orange accessories. Send your photos to international@losev.org.tr via email or share them on your social media accounts with the hashtag #BizKazanacağızLÖSEV, and also tag @losev1998 (twitter, instagram) and @losev_en (twitter) to support their fight and strengthen our efforts.
All videos and photos featuring the color orange and the week's slogan, along with your well wishes, morale-boosting messages, will greatly contribute to our children and the Foundation's work.

Let's shout together: Hooray for Leukemia Children, Hooray for LÖSEV!"