MEETING OF EUROPEAN CANCER SURVIVOR YOUTH WITH ART AND HOPE…

Youth project called "Hands That Cling to Life" hosted by LÖSEV between 6-15 July 2009 in Cappadocia and Ankara, with the main sponsorship of the European Union Education and Youth Programs Directorate and with the support of many organizations was successfully completed with the participation of counterpart organizations in Romania, Hungary, Luxembourg, Portugal and Poland.
WHO ARE OUR PROJECT PARTNERS?

Fundacja ORIMARI- (Poland)
ACREDITAR – Associação de Pais e Amigos de Crianças com Cancro- (Portugal)
Együtt a Daganatos Gyermekekért Alapítvány- (Hungary)
P.A.V.E.L.-Primind Ajutor, Viata Este Luminoasa- (Romania)
Een Häerz fir kriibskrank Kanner- (Luxsemburg)

MOMENTS WHEN ART TURNS INTO HOPE
The "Hands That Cling to Life" project which emphasizes creativity, freshness and innovation, that are among the priority themes of the European Union's program, aims to contribute to the protection and promotion of cultural differences through various art practices and cultural activities. Specifically, this project aims to bring together European youth who have completed their cancer treatments in order to draw the public opinion's attention to cancer and to inspire morale by giving messages of hope to children who are undergoing treatment.

Non-formal education techniques used in cultural activities such as organizing traditional arts and crafts workshops, simulation games, group discussions and individual practices allowed the participants to discover the cultural diversity and richness as well as get to know the common values of Europe.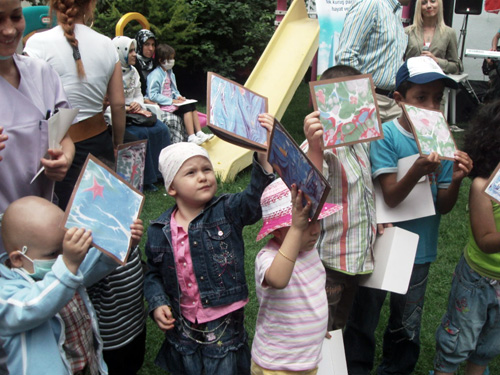 Thus, with the theme of "Art for Hope", this project emphasized that art itself instils hope with positive messages and can be a language in raising awareness against cancer. Project activities were carried out during 8 days in cooperation with local youth as well as local governments, NGOs, local people, private sector organizations, briefly, all other project supporters.
COLORS OF LIFE
Inspired by the magical nature of Cappadocia with the historical and cultural tours organized within the scope of the project, young people tried to make their voices heard through art practices that symbolize creativity and innovation, and they took off with the balloon called "All Colors of Hope" and conveyed positive messages that draw attention to cancer to the whole world. Nevşehir Chamber of Commerce and Industry, Nevşehir Municipality and Avanos Municipality visited the young people who received information about the region and met with Turkish youth in entertaining and enjoyable activities. In addition, the young people organized an exhibition in which they shared the marbling paintings, pottery, free-forming, oil painting and similar traditional art products they made with the valuable contributions of Hotel Karlık Evi and volunteer artists with large audiences.
Young people discovered the difference and diversity of European culture by participating in workshops reflecting their own culture, history and traditional arts, especially in the Ankara leg of the project, and at the end of the project, they had the opportunity to experience the richness of the common European culture with the "European Arts Map" they created.
WE THANK ALL INSTITUTIONS AND PERSONS SUPPORTING OUR PROJECT




Please click for the official website of the project...
Please click to view the Ankara photo gallery of the project...
Please click to view the Cappadocia photo gallery of the project...