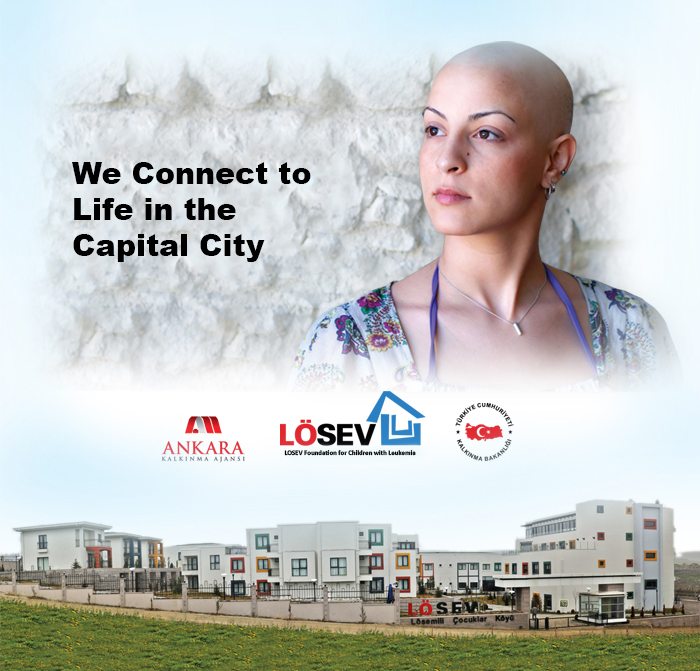 WE CONNECT TO LIFE IN THE CAPITAL CITY PROJECT
Our project is implemented by LÖSEV with the support of Ankara Development Agency.
With this project, free rehabilitation and counseling services are provided to the target group of patients who have just been diagnosed with cancer and/or have overcome the disease, and their first-degree relatives. In our practice center at LÖSEV Village for Children with Leukemia in Ankara, we work with our expert teams and social counselors to improve the quality of life of our patients outside of their treatment process, to bring them the joy of life again, and to get together with patients in their own conditions to have rich exchanges and friendships.

What is the Purpose of Our Project?
Leukemia and cancer patients wear masks, lose their hair, walk with crutches, etc. due to their treatments. They cannot be distanced, excluded or left alone for those reasons. Our patients who are undergoing chemotherapy or who are recovering should not stay in their homes because they have nothing to do and the people around them are getting away from them. On the contrary, they should be connected to life by living their normal lives in their hobby houses and gardens. Unfortunately, the importance of rehabilitating and connecting to life on the treatment of the disease for patients who have gone through a difficult, long and exhausting period such as cancer has not yet been fully understood in our country.

We aim to raise awareness in the society about saying STOP to cancer, which is increasing day by day and has become a big problem worldwide, to support cancer patients and their relatives in many areas, to provide them with hobbies and friendships that will enable them to make themselves happy in their new lives and forget about their concerns.

What Kind of Rehabilitation Is Performed?
With rehabilitation and consultancy services, it is aimed to provide personalized, flexible and forward-looking services for the diagnosis of disease, regardless of age, gender, social status. Rehabilitation service should be developed based on high quality and dialogue between patients and specialists. In general, there are practical deficiencies in the referral of patients to rehabilitation by hospitals. Implemented rehabilitation programs have a great impact on patients' coping and prevention methods, changes in lifestyles, experiencing new experiences, and sharing information with other patients and specialists.
The most important goal of rehabilitation and counseling services is to help people who have been treated for cancer and survived cancer to adapt to their daily active life after treatment and illness, to continue their lives as before, to meet different occupations and to adapt them to their own lives afterwards.

Rehabilitation and Counseling Services
Patient relatives and specialists also play an important role in this process; Therefore, it is ensured that the relatives of the patients participate in the programs and group meetings. Patients see that their relatives are also involved in their own lives. The rehabilitation program is as follows:

OUR COLLABORATIONS
We would like to thank all our volunteer professional trainers and sensitive institutions who supported our Foundation and our patients throughout our project for their sensitivity and for not leaving us alone.
ANKARA METROPOLITAN MUNICIPALITY
One of the goals of the We Connect to Life in the Capital Project is to contribute to the tourism of Ankara and its surroundings. The Metropolitan Municipality has been giving its valuable support to our Foundation for the realization of Ankara trips organized for cancer patients since May.
ALTINDAG MUNICIPALITY
Altındağ Municipality provides vehicle and guide support to our Foundation for the realization of Ankara trips for cancer patients.
ARTOSFER ART HOUSE
Artosfer Sanatevi, which was established in 1993 to contribute to the artistic life of Ankara, conducts workshops with adults and children in the basic arts of painting, ceramics, sculpture, creative drama and theater. Within the scope of We Connect to Life in the Capital Project, since May, Yahya Tokdil and his talented students have been supporting our adult cancer patients in giving ceramics and drama trainings voluntarily.
BAHTINUR CELIK
He continues his duty as an art teacher at Ankara Maturation Institute. It gives great support to our project with marbling, watercolor and bandana works.

DAGHAN MANAV
Working in Major Music, Dağhan Manav contributes to the rehabilitation of patients by voluntarily supporting our project with a rhythm workshop at appropriate times.

ESER MUTLU (50 PLUS)
After receiving an international Laughter Yoga Trainer certificate from the Indian medical doctor Madan Kataria, the founder of the Happy Laughter Yoga system, Eser started her studies on Laughter Yoga when she returned to Turkey and organized group activities once a week, Laughter Yoga Trainings for groups in different centers, Laughter Therapy Personnel Trainings for companies, and laughter yoga with children with leukemia and their mothers at LÖSEV's LÖSANTE Hospital, voluntarily since May, for adult cancer patients in LÖSEV's We Connect to Life in the Capital project covering Turkey. He practices Laughter Therapy.
PHOTO ART ASSOCIATION
The association, which has been working to share and spread the art of photography in all its aspects since 1985, aims to share art and cultural values between individuals and societies through biennials, exhibitions, shows, competitions, seminars, artistic exchange programs and other activities. Within the scope of our project, we provide training support to our patients on photography.
HAYAL SAHNESİ
An institution that prepares students for conservatories, theater schools, professional dance groups, international music and ballet competitions, conservatories abroad and schools that accept students with talent exams; is a counseling center that coaches people of all ages, including children, who want to be kneaded with art. As part of the project, Imagination Stage allows cancer patients to spend good hours in the rhythm workshop accompanied by percussion instruments.
Ka PHOTO DEVELOPMENT WORKSHOP
Ka Photography Development Workshop is a place where people who choose to express themselves using photography come together and want to try many ways to nurture this form of expression. During the project, we have created a new area of interest for our patients by providing voluntary training support on photography since August.
LATINO DANCE STUDIO
Latino Dance Studio was established in 2000 and serves dance lovers in Ankara with its expert and professional trainer staff. Since May 2012, we have been supporting our adult cancer patients with our dance trainings in different branches as part of our project with volunteer dance instructors.
YOGA STUDIO
The valuable expert trainers of Yoga Studio Ceylan Ersöz, Sonat Bağcan Taneri, Demet Sancak Topaloğlu and İncihan Usluel have been showing interest in the We Are Connecting to Life in Başkent Project since the first day and since May, we have been helping adult cancer patients learn relaxation techniques with yoga and meditation and relieve their worries. provide voluntary support.
WE ARE WAITING FOR YOUR SUPPORT
We Are Connecting to Life in the Capital Project is a project that was brought to life based on a great need in our country. Our project, which will be implemented for 10 months, is implemented in the 3rd week of each month in 4-day periods with different groups. The feedback received from the participating groups so far has been very positive, and we expect the support of all volunteers and staff, individually and institutionally, in terms of the sustainability of our project, in terms of announcing the project and reaching patients.

Cancer patients and their first-degree relatives who want to benefit from our services and who will participate in our ongoing or completed treatment from Ankara and outside Ankara; healthcare professionals who want to direct their patients to our project, volunteer educators who want to voluntarily support our project...